CSR Projects 2021
Caddies' chairman receives a cheque contribution from "fill a caddy's basket" initiative – 2021
Member Ms. Stella Ondimu donates 50 eco board dustbins to the club – 2021
Lady Captain 2021. Dr.Michelle Muhanda presents food donations to the caddies representatives.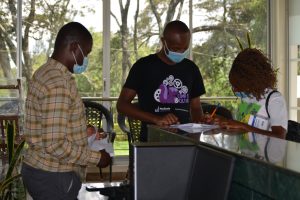 Caddies receive a cash donation contributed by RNGC members
Chairman Sunny Babra & Captain Sylvester Odhiambo present Mask donations to caddies – 2021
Caddies Contribution Fund
With the current Pandemic, Members decided to generously support our caddies kitty during the month of June and July. The SMC COMMITTEE coordinated the noble initiative to put a smile on our caddies.
Little Rock Educational Fund
Royal has supported the Little Rock education fund over the last two. years. Our main objective for the day spent with the children will be to put a smile on the kids face.